January 4th, 2019
Year In Review Highlight: Grand Opening of The Farmhouse
One of 2018's major highlights at Durham Farms was the eagerly-anticipated Grand Opening of The Farmhouse amenity center at the beginning of October.
We turned the event into a fun-filled Harvest Fest with live music, a free barbecue lunch, kettle corn and fall treats, and an Oktoberfest-themed beer and cider tasting with beverages from local distillers and brewers.
Youngsters enjoyed a petting zoo, bounce house, video game truck, a pumpkin patch and pumpkin decorating. The event also featured local vendors as well as trolley rides and shuttle service through the neighborhood.
Check out the Durham Farms 2018 Harvest Fest and Grand Opening of The Farmhouse: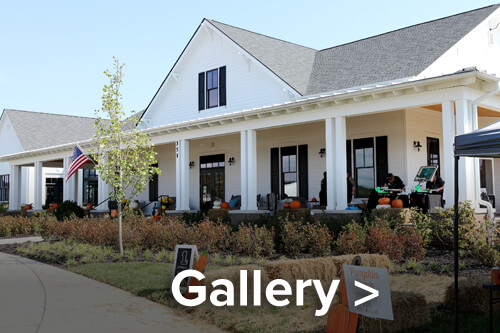 The Farmhouse is the spacious amenity center at the heart of Durham Farms and home to a state-of-the-art work out facility; community swimming pool with splash pad; outdoor deck and lounge area; free wifi work café; community conference room; game activities area; and, a full-time in-house Lifestyle Director to organize community activities among neighbors throughout the entire year.
"The Farmhouse is meant to be the heartbeat center of the entire Durham Farms community. It is essentially the amenity-filled energy pulse to the lifestyle of a connected community," explains Suzanne Maddalon, vice president of marketing for Freehold Communities, Durham Farms' developer.
"Activity, healthy living, engagement, connectivity, these are the elements of modern living that we want to combine with the front-porch friendliness of the small-town community lifestyle in Hendersonville," she added, "The Farmhouse at Durham Farms is the physical center of that for this community."