April 12th, 2018
Restaurants We Love : Café Rakka
LIVE FRESH. EAT FRESH. This simple mantra has become the core mission of this family-owned restaurant in Hendersonville.
Everything served is made fresh daily, using the world's finest herbs, spices and ingredients.
Hummus, yogurt, and even their cheeses are prepared from scratch – using recipes that date back generations to the 'Fertile Crescent,' known as the cradle of civilization.
Menu items at Cafe Rakka contain no MSG and are prepared solely with olive oil, creating food that not only tastes exceptional, but promotes healthy living.
See the Café Rakka menu here and a selection of their dishes in the gallery below:
For more than five generations, Chef Rakka's family has been renowned cheese, butter and yogurt makers in Syria.
"My grandmother." That is the answer Riyad Al-Kasem (aka Chef Rakka) will give you to the question "who taught you how to cook?"
While still young and living in Syria, Chef Rakka cared for his grandmother. During that time, the 80 grandchildren she had would also visit on the weekends, and Rakka's grandmother taught them all how to cook.
Her cooking methods were those of a different generation but also taught Rakka what he terms the unofficial science of cooking (why you do what you do when cooking), which gave him the basics he needs to regularly create wonderful new recipes.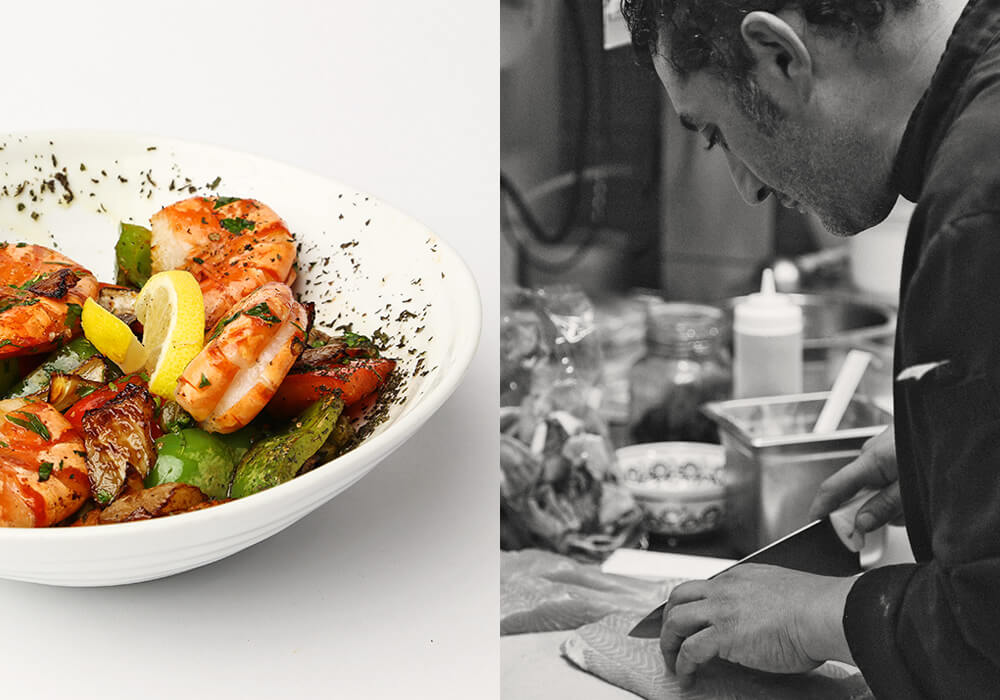 In college, Chef Rakka longed for the home cooking of his Syrian youth, and after a long and stressful day, would turn to cooking for relaxation. He would call his mother for help recreating his favorite Middle Eastern recipes, and finally started writing down instructions.
After scoring the highest possible score on his International Studies test on American government, and his interest in the democratic system of checks and balances, the U.S. beckoned. Rakka does have a law degree, and although he may some day think about returning to law, cooking remains, as it always has been, his first love.
Chef Rakka now lives in Hendersonville with his wife Linda and their two children.
---
CAFÉ RAKKA
HOURS
Monday – Saturday
Lunch: 11am – 3pm
Dinner: 5pm – 9pm
---
About Durham Farms:
Durham Farms offers a small-town lifestyle, with quiet, tree-lined streets, a community clubhouse and ample common areas and green space. Our community offers features and amenities like front porches, walking trails, playgrounds, neighborhood parks, and a community pool for homeowners, families and friends.
Durham Farms is just minute's away from great schools, shopping, city parks and the waterway lifestyle of Old Hickory Lake. Open since Spring of 2016, our development is situated on 472 acres in Hendersonville, Tennessee and includes 1100 residential home sites.