July 8th, 2021
Lightbridge Academy to Open Second Nashville-Area Location at Durham Farms in Hendersonville
Freehold Communities Welcomes Curriculum-Based Preschool to Durham Farms During Groundbreaking Ceremony on June 29
Lightbridge Academy®, the national and fast growing curriculum-based preschool, has started construction on its second facility in the greater Nashville area at Durham Farms in Hendersonville. Representatives of Lightbridge joined Freehold Communities®, developer of Durham Farms, and city officials for a special groundbreaking ceremony on Tuesday, June 29 to announce plans for the school. Located in the heart of Durham Farms, it represents the popular masterplan's first community-focused business.
Durham Farms has emerged as one of the fastest-selling master-planned communities in Tennessee with hundreds of families calling it home. The Lightbridge Academy will be near The Farmhouse, the recreational centerpiece at Durham Farms. Enrollment will be available to both non-residents and residents of Durham Farms.
"We are proud to be expanding the Lightbridge Academy family and bringing our tradition of educational child care excellence as The Solution for Working Parents® to Durham Farms," said Lightbridge Academy CEO Gigi Schweikert. "We are excited to see the positive impact they will make in the lives of children and working parents within their community."
With an indoor multi-purpose room, interactive whiteboards and tech tables, Lightbridge Academy will offer programs for infants as young as 6 weeks old, toddlers and pre-k students. Planned to open in Spring 2022, the school's goal is to ease the stresses of busy, working parents by developing industry-leading programs including ParentView® Internet monitoring and a parent eCommunication app, which provides parents with an ongoing connection during the day, as well as drop-in care, nutritious snacks, optional meal plans, extended hours and more.
"We are thrilled to welcome Lightbridge Academy to Durham Farms," said Suzanne Maddalon, Vice President, Marketing for Freehold Communities. "As with all Freehold Communities, high-quality amenities are what distinguishes Durham Farms from other places to live. The new Lightbridge Academy is the ideal complement to Durham Farms with its focus on community and lifestyle benefits."
Curriculum-based preschool is one of the most valuable amenities Durham Farms families will have the opportunity to enjoy. The Wall Street Journal recently reported: "Multiple studies show that going to preschool gives young children a leg up on all kinds of learning, not just academics but social skills, listening, planning and self-control."
Lightbridge Academy will become an integral part of the Durham Farms community. Its staff will work with Freehold's on-site lifestyle director on creating programs for families and sponsoring upcoming events for Durham Farms residents.
Durham Farms offers residents the best of small-town Tennessee living, with front porches, quiet tree-lined streets and amenities designed to bring neighbors together. With 1,200 homes on 472 acres, the community is ideal for step-up families looking for a larger home in a community with extensive amenities for adults and children. Durham Farms is also an excellent choice for move-down empty nesters with free time to relax, exercise and pursue their passions. The neighborhood, amenities and homes reflect the Freehold Communities approach called "Vital Communities®," with an emphasis on healthy living, engagement, connectivity, stewardship and strong design.
Hendersonville has been acclaimed for its top schools, parks, shopping and scenic beauty, with 26 miles of shoreline on Old Hickory Lake, the area's centerpiece for boating, fishing and other recreational activities. Additionally, Durham Farms is just 18 miles from downtown Nashville, close to work and the unique blend of cultural and entertainment attractions that Music City has to offer.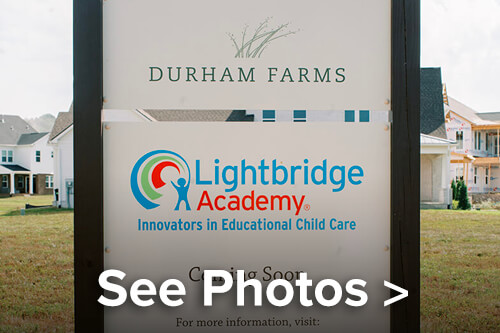 ---
About Lightbridge Academy
Since 1997, Lightbridge Academy's core values have drawn together thousands of parents, children, staff, franchise owners and communities to form the supportive relationships necessary for children and families to thrive. Its proprietary Seedlings early childhood education curriculum encompasses solid academic learning with developmentally appropriate practices designed to cultivate the whole child. Lightbridge Academy is known as The Solution for Working Parents® and its remains committed to meeting their evolving needs while never forgetting that children are at the center of why we are all gathered together.
Its ongoing commitment to support busy parents inspired Lightbridge Academy to integrate technology to form a stronger connection between home and school. Lightbridge Academy was the first childcare in 1998 to introduce ParentView® Internet Monitoring, a technology that enables parents to stay connected throughout the day. It also led to the 2011 launch of a parent eCommunication app that sends families pictures and videos with real time reports and milestone updates. In 2020, Lightbridge Academy led the child care industry with the gold standard for health and safety with its air purification and filtration systems. These enhancements, in addition to many others, have continued to keep it at the forefront as Innovators in Educational Child Care®.
In the coming years, Lightbridge Academy will continue to expand its unique brand by opening childcare franchises in Florida, Maryland, New Jersey, New York, North Carolina, Ohio, Pennsylvania, Tennessee and Virginia.
---
About Freehold Communities
Freehold Communities®, headquartered in Boston, MA, is currently developing approximately 15,000 residential units within mixed-use and master-planned communities in Texas, Tennessee, North Carolina, South Carolina, Georgia, Florida, California, and Virginia. Freehold creates Vital Communities® that embrace healthy living, engagement, connectivity, stewardship and distinctive home design. As it evaluates opportunities, the company focuses on the right planning, the right properties and the right partners. Beginning with comprehensive research to gain insight into the unique needs, trends and preferences in the local market, Freehold carefully considers each property to determine how to best maintain its beauty and character to create a Vital Community® by partnering with quality, creative builders who share Freehold's philosophy of offering niche solutions and unique, timeless designs. To learn more, visit http://www.FreeholdCommunities.com.